Semaine du 28 Mai au 1er Juin
Semana del 28 de Mayo al 1ro de Junio
Week from May 28-June 1st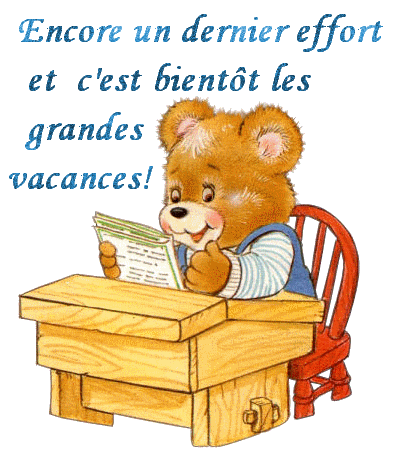 C'est la derniere semaine et nous allons travailler sur le theme des vacances dans toutes les classes.
This is the last week and we are going to work on the theme of holidays in all classes.
Esta es la última semana y vamos a trabajar en el tema de las vacaciones en todas las clases.
Pour travailler ce theme, nous allons utiliser la conjugaison du futur proche pour raconter nos prochaines vacances.
To work on this theme, we will use the conjugation of the near future to tell our next holidays.
Para trabajar en este tema, usaremos la conjugación del futuro próximo para contar nuestras próximas vacaciones.
Rappels pour cette semaine/Reminders for this week/Recordatorios para esta semana:
Mercredi 30 nous allons présenter les éxposés sur les personnages francais de l'histoire de France.
On Wednesday 30th we will present the exhibits on the French characters of the history of France.
El miércoles 30 presentaremos las exhibiciones sobre los personajes franceses de la historia de Francia.